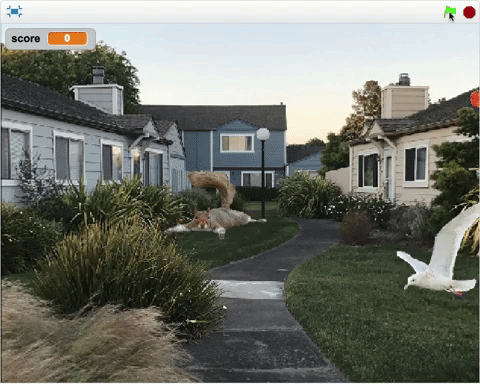 Game – //scratch.mit.edu/projects/embed/175587959/?autostart=false
For version 2, I added a second background and managed to add the controls that allow the scenes (backgrounds) to change when the squirrel touched the right or left edge. I was thinking about adding some sort of signifier for this (maybe an arrow on both sides), but then it became too visually distracting and kind of ruins that element of surprise. Scoreboard has been added, along with a seagull. Now, the squirrel must grab the cherry tomato before the seagull touches it. Survival of the fittest. Also, there's background music now!
I originally had 2 seagulls coming for the squirrel but it became too challenging. I could try to scaffold the timing of the seagulls, or create a leveling up system so that when the scoreboard reaches a certain number, the second seagull can come down. If time permits, I will try to figure out both these options.